Latest posts by Mikey Walker
(see all)
One Piece 2: Pirate King, the sequel to One Piece Online offers up plenty more 2D MMORPG action for fans of the popular One Piece franchise. The online game from JoyGames allows players to follow on with the entertaining story as they take on and recruit many of the characters that they will already know from the Shonen Jump manga.One Piece 2: Pirate King was released in September of last year and is already proving popular with players and not just those that know the manga well.
The game revolves around a young pirate that is trying to become the pirate king and his group of friends as they go looking for One Piece. As you start out in the game you will be given a choice of different classes for your character of between a Sailor, Dark Mage, Doctor, or Sniper – each obviously having their very own strengths and weaknesses in battle.
Players are then taken to be introduced to a number of the popular other characters from the series that are there to help guide you along your way. Once you have met your guides you are then introduced to Luffy, another character that they can add to their team.
As you move along in the game you are able to recruit another character to fill up your party but this will cost some of either the regular currency in the game or premium currency if you wish to get it done quicker.
Combat
The combat system is still automated like it has always been which might annoy a few players but this does not really detract from the game being incredibly addictive as you try and level up your characters and increase their skills. Players literally jump from island to island as they go on their quest and have to fight hordes of villains.
One Piece2: Pirate King also has a number of entertaining PvE and PvP features that are sure to keep its fans happy. Among these are the likes of team battles, pirate battles, and elite battles that can all be had against other online players.
As players get further into the game they will find a wealth of different characters to recruit, a large number of quests to complete and the many other different features that can be unlocked as they go along.
Players will quickly learn what sort of characters suits their own play styles and what characters work well against others. They will also learn about the different types of attacks and skills and will soon be fine tuning their party to be as effective as possible.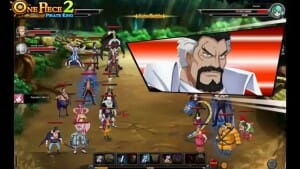 Summary
The real downside of this game is that it is very repetitive as you will often feel like you have done the same quests and battles over and over again as you try to level up. Additionally, the graphics are far from able to compete with similar games of this genre.
One Piece 2: Pirate King will certainly appeal to hardcore fans of this franchise but it will have to be seen if it can attract anyone else as there are better options out there in our opinion.
Pros of One Piece 2: Pirate King
A wealth of character abilities.
Fans of the genre will love it.
Cons of One Piece 2: Pirate King
A little repetitive with many of the quests.
Pay-2-Win is heavily influenced.