Latest posts by Mikey Walker
(see all)
If you are looking for a high quality free to play 3D browser MMORPG, then Magerealm: Rise of Chaos from Yonzu Games is going to be right up your street. The game puts you into a fantasy world or angels and demons where you have to recruit angels to help you as you strive to defeat the Demon Lord.
Magerealm: Rise of Chaos was released in June of last year and it has already amassed a large following of players due to its good graphics, many in-game features, and addictive gameplay.
The game is set in a mythical world that has just witnessed the destruction of the Holy City due to a huge battle between two powerful mages by the names of Freya and Anders with the latter coming out as the victor. You as the player take on the role of the only surviving mage that is both weak and confused as to what happened to the city You as the only mage remaining have to set about stopping Anders and his army from conquering the whole world.
Graphics
When you consider that Magerealm: Rise of Chaos is a browser game you will be very impressed with the graphics that it has to offer. The artwork has been done beautifully while the effects are fantastically done too.
If there was a bit of a negative with regards to how the game looks and feels it would have to be the interface which just seems to be a little too cluttered. If you have played browser games like this though in the past, you will know that this is quite a common factor.
Gameplay
Initially players will have to choose their character from three that have already been custom made. This is a bit disappointing as there are no customization options here apart from giving your character its own unique name.
As for the storyline, this is given to you in short cut-scenes as you progress through with the first of them being once you have chosen your character. You are then responsible for taking and completing quests until you one day face the Demon Lord himself.
There is no tutorial as such in Magerealm: Rise of Chaos, so players will have to make use of the many tooltips to learn what to do.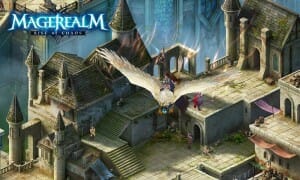 Auto-Pathing and Auto-Combat
Most free to play MMORPG's these days involve auto-pathing and auto-combat so it is no surprise to see it in this game as well. This will not please players that like to have a bit more control over the game but those that prefer to leave the computer to do a lot of their tasks for them will love it.
Summary
There is not much that sets Magerealm: Rise of Chaos from other MMORPG's with regards to gameplay and substance but it does in other areas. Graphically there are not many better free to play browser games around and the audio is exceptional as well. Other than that though you always get the feeling that you have played the game before as it is very similar to many others.
Definitely worth a look, if not just for the graphics that are on offer!
Pros of Magerealm: Rise of Chaos
Graphically great.
Plenty of quests.
Cons of Magerealm: Rise of Chaos
Far from unique.
Lack of customization options.