Latest posts by Mikey Walker
(see all)
Age of Conan: Unchained is a free to play MMORPG that has been developed and published by Funcom that offers players the chance to dive into the world of Hyboria and King Conan which were created by the acclaimed author Robert E. Howard.
In the game, you join thousands of other players as you explore your way around Hyboria having to defend yourself from hordes of NPC and other online players.
The game was originally released retail game but they have since moved it to being a free to play game – as sorts. This is because it is free to play but there is additional content that is only available to players that subscribe to the game.
Getting Started
Once you have downloaded the rather large client of around 20gb, Age of Conan: Unchained will take you through customizing your character. There is so much control over this aspect of the game with so many different looks and a total of 12 different classes across four different archetypes. Those four are the Priest, Mage, Rogue, and Soldier and each of them can be molded as the 12 classes such as Bear Shaman and Assassin.
However, as mentioned above, some content is unavailable to free players. This includes the amount of choice that they have when it comes to classes. They actually have just four of the twelve to choose from, the Barbarian, Priest of Mitra, Guardian, and Demonologist.
Combat
The combat in Age of Conan: Unchained is where the fun really begins as it is completely different to many other games in this genre in that respect. You have complete control over your character rather than just simply clicking a target and watching him do battle. You are behind every different thrust, chop, and swing that your character throws and also have to learn how to defend against attacks.
This means that there is a strong emphasis on skill rather than just the statistics and abilities that you have built up for your character. You can even undergo combat when mounted on a horse or other animals such as mammoths and rhinos!
Again though, only players that subscribe will be able to mount anything other than a horse, which is a bit of a shame. Additionally, non-paying players are only permitted to create two different characters whilst a subscriber will get to create as many as eight should they wish.
At least free players can try out the game as they go on dungeon runs with the new friends that they have made in the game and decide whether they do want to pay for the added content somewhere down the line.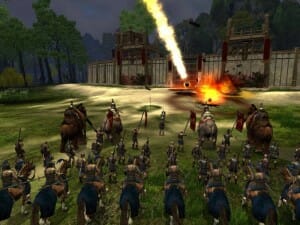 Summary
Age of Conan: Unchained is one of those games that really should be tried out in order to see the stunning graphics and gameplay that is on offer. There might be content that can only be purchased but even without it, the game is still incredibly fun and extremely addictive as well.
Rather than worrying that you are not getting what the paying players are, take it for what it is and enjoy what you are getting which is fantastic graphics and a gaming experience that will have you hooked.
Pros of Age of Conan: Unchained
Fantastic graphics.
Massive free to roam world.
Cons of Age of Conan: Unchained
Some content can only be had by subscribers.
Huge download.