Latest posts by Antonis Pavlou
(see all)
The MMORPG free to play browser game Metin2 was originally developed by Ymir Entertainment and released back in 2004 in Korea.
Since then the popularity of the game has seen it move to servers in both Europe and America and is now considered one of the most played free to play games online with almost 14 million players having registered for the game thus far.
The game is full of fast paced action that is done in real-time with each player representing one of the three factions in the game as they take each other on in order to win complete control of the continent.
The three kingdoms that a player can choose from to represent with each of them having four different classes of character. These classes are the warrior, sura, mage and assassin
Players start with absolutely skills and have to quickly go about leveling up so that they can earn skill points needed to enhance their characters stats.
To do this players will be offered quests from the games NPC's. These quests will usually focusing on killing creatures, relaying messages or finding items.
Where this game does stand out is in combat mode. It is different to other games in which you just click on a target to attack and watch the action. You actually have to swing your weapon yourself which makes the game far more interesting and fast paced.
The PvP mode is also a huge plus for this game, though you will not be able to take part until you reach level 15 in the game. The game is completely PvP open so you are able to battle with any other player that you encounter, be warned though that you will suffer experience penalties if you kill anyone.
If players really do want to fight to the death without risk of penalties there is also the dueling system. Both players will have to give their consent for such a battle before they can start to go off at each other.
There is even another PvP mode that allows anyone who enters the ability to attack anyone without any penalties apart from attacking your own faction's players.
As you would expect from a free to play game there is premium features available for players that want to get some advantages for putting money into the game.
Whilst these features will make it much easier for these players to level up, the advantages are not really game breaking. This means that you can still enjoy the game without it feeling a little unbalanced.
There are many clans in Metin 2 and it highly advisable that any new player looks to get into one as quickly as possible. This will not only give you added protection but will allow you to enjoy quests and battles together to help you level up quicker.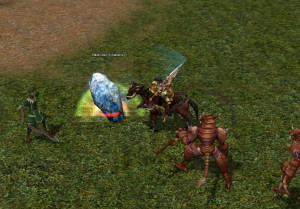 The game is certainly fun and will have you hooked within minutes but it does have its flaws. The limited customization of characters and graphics that look about five years out of date are the biggest of those but it depends on how much you value the importance of both factors.
Pros of Metin2

[checklist]
Decent PvP That Is Open
Plenty of Faced Paced Action
Large Player Base
[/checklist]
Cons of Metin2

[badlist]
A Lack of Customization Options
Rather Poor and Outdated Graphics
Repetitive Quests
[/badlist]