Latest posts by Antonis Pavlou
(see all)
Grand Prix Racing Online is a free to play browser game that puts players in control of their very own F1 Grand Prix team. The game has proven to be extremely popular with almost 500k registered players enjoying this game on a regular basis.
It works by playing the game in a division based format, putting players in divisions to see if they can come out on top and get promoted to a higher class.
The game is addictive takes a lot of time and effort and is a challenge like no ever you would have accepted before.
First of all, the game is free to play, which is of course a massive benefit. All you have to do is register for an account and you are good to go. In some cases you may have to be put on a waiting list however, which can take a couple of days before you are accepted.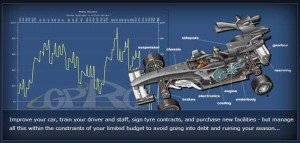 Once in you are first tasked with finding a driver for your new F1 team, overseeing the whole team during the 17 race calendar and hopefully doing enough to win your division and get promoted.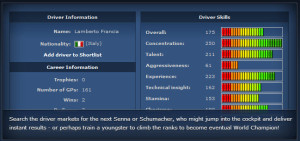 A season lasts roughly two months with there being two races each week on Saturdays and Wednesdays. When it is not race day you have the chance to perfect your car through upgrades, upgrade your facilities and perform tests.
This all has to be done within a budget of $30 million. This means you have to balance the driver's salary and any upgrades for both your car and facilities. This leads to the game being very difficult as it is not as easy as just signing the best driver or having the best car, a good balance is required to be successfully.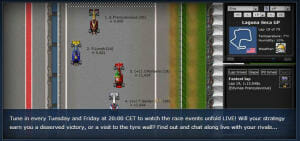 It can be tough keeping your team in the green with regards to finances but there is good news. If you perform well on the track, the more money you will receive after the race. Better sponsors will also become available the more successful that you are, which all helps to keep your bank balance nice and healthy.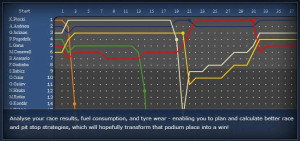 Once you have done all of the required throughout the week it is time to start racing. That is why you all want to play the game anyway right?
Initially, you will have a practice session, then have to try and qualify for the race as high up the grid as possible. You then have to think about setting up your race strategy before witnessing first hand what all of your hard work has achieved.
Each of the top eight finishing cars will receive points that then go against your total for the season. If at the end of the season you are in the top four, you will be promoted from the rookie league and into the Pro league. Then comes the Master and Elite leagues after that.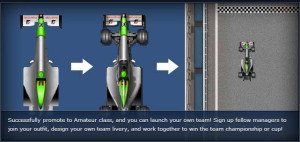 You can of course also be relegated, so you have to be a consistent learner to be able to stay competitive in the game.
All things considered, this game will have you hooked from the very beginning. The graphics are not the best but they are not really required in making this game highly enjoyable, especially for those that love the world of motor racing.
Definitely worth a try as you will quickly realize how much fun you can have by playing Grand Prix Racing Online.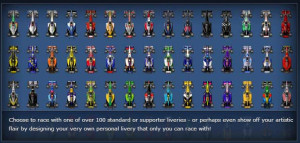 Pros of Grand Prix Racing Online

[checklist]
Fun and Addictive
Big Player Base
Enjoyable Racing
[/checklist]
Cons of Grand Prix Racing Online

[badlist]
Different Rules To Real Life
Waiting List To Be Accepted
Steep learning Curve
[/badlist]