Latest posts by Antonis Pavlou
(see all)
This post is not about a browser game, but regarding a Sci-fi, 4X, Co-op, LEGACY adventure board game for 1 to 4 players.
Centauri Saga is a sci-fi adventure board game that supports a 4X and co-op game play style for 1 to 4 players. Recommended ages 13+. Playtime: 60 – 90 minutes.
After the successful Kickstarter last year, they are back with an extreme expansion that brings a LEGACY campaign to the Saga of Alpha Centauri.
Background Story
In a future where the Solar System is ruled by a tyrannical government, a band of outcasts escapes to a star system light years away. There they discover an ancient human colony with a dark secret that threatens to destroy the Earth itself. You are all that stands between the Earth that abandoned you and it's total destruction.
Take command of a ragtag space fleet and fight to save the Earth with nothing but a handful of outcasts and your ingenuity. Build, explore, and fight as you try to survive long enough to warn the Earth of the coming menace.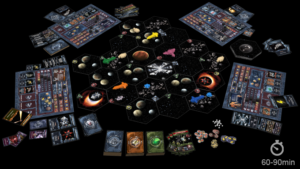 Components & Mechanics
We can NOT disclose the contents of the Expansion since that would be a huge spoiler for the campaign, but we can tell you what our plan for this expansion is going to be:
Affordable Legacy Games! Since the "Legacy" part of the game is an expansion, the cost of each season will be half the usual price of Legacy games.
Many hours of gameplay. This Legacy Campaign can be played from 8 to 16 sessions of 60 to 90 minutes each.
SOLO Legacy Mode. Our campaign can be played solo. In addition, you may play ANY of the sessions with 1 to 4 players. No matter whether you played previous sessions with more or less players, each session will adapt to the current number.
Added Value. As soon as you finish the Legacy Campaign, you will gain access to two scenarios that you can play over and over again, which will also use the hidden "stuff" that you will unlock during the Legacy Campaign. So, each Legacy Season will always extend and add to your core game!
ALL backers will receive:
New and updated rulebook. We will split the rulebook into two. One for the Core Rules and one book for the Scenarios. We will be adding an index, an appendix giving more detailed information on some cards and we will be moving things around to make them easier to be found. We have also integrated all the comments we received during the last year, and we adjusted the core rules to make the game more strategic and less based on the dice rolling.
Updated Cards. You will get reprints of the cards that we have upgraded based on playtests and the requirements of the future expansions. These cards include Actions, Events, Units and Power Ups.
5-6 Player Upgraded Components: If you get the 5-6 Player Addon from this campaign or you already own it from the previous campaign, this pack will contain the extra upgraded components for that add on too.
KICKSTARTER EXCLUSIVE: Two new special events available only to kickstarter backers
Upgraded components & more miniatures. Through our Stretch goals we will also upgrade the Player Mats to "punchboards", add more events, more scenarios and more miniatures to the game!